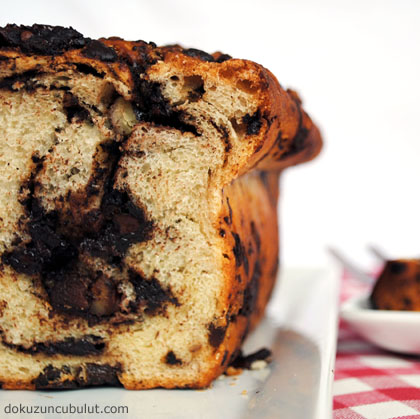 With all the hazelnuts and chocolate, this bread tastes incredible; similar to a warm slice of bread slathered with a thick layer of Nutella, or even better. This bread is an excellent addition to any brunch table or perfect with a hot cup of tea or coffee or even a cold glass of milk in the afternoon.
Adapted from: Bread: Baking by hand or bread machine
Ingriedents:

3 ¾ cup bread flour

1 ½ tsp salt

1 ½ tsp instant yeast

1 ½ cup water

1 cup coarsely chopped toasted hazelnuts

200 grams (7 oz.) bittersweet chocolate, chopped

2 tbsp unsalted butter, at room temperature

1 egg, lightly beaten
Directions:
In the bowl of an electric mixer, combine the flour, salt, yeast and water, mix on medium speed for about ten minutes, transfer to a lightly oiled bowl and let it ferment for 1-2 hours, or until doubled in bulk.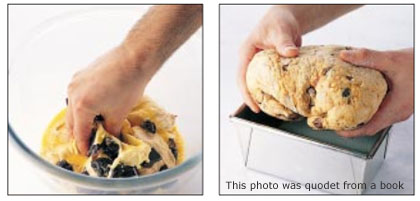 Grease a 9x5x3 inch loaf pan with butter. Once the dough has doubled, add the hazelnuts, chocolate, butter and the egg, knead the dough on a lightly floured surface for a few minutes and shape to fit into a loaf pan. Cover the dough with a tea towel and let it proof for about 30 minutes.
Preheat the oven to 175C/350F; bake the proofed loaf for 30-45 minutes, tent with aluminum foil if the top gets too dark. Cool the baked loaf on a wire rack and serve slightly warm. If you have leftovers, wrap in aluminum foil and warm in an oven preheated to 275F.

I am sending this to Yeastspotting.